/ sisalto / kitara / thebigamp
A ridiculoysly high powered tube amp
Builder: Pekka Lehtonen
Started: 29.12.2005
Some months ago I got my hands on an old tube PA amp. I have not been able to identify the amp but people have guessed that it could be either an old Televox or perhaps an old Finnish Voima. The consept of the amp is pretty common. The amp has four EL34 output tubes, EF86 and ECC83 preamp tubes and a mysterious ECC40 phase inverter tube. The output section is cathode biased. The transformers are huge! Unfortunately the output transformer seems to be 100volt line type. The amp originally had two huge rectifier tubes but they have since been replaced with two diodes. The amp has three inputs. Possibly two "line" input and one mic input. The amp has a nice chassis allthough it has bent a little under the heavy transformers.
I'm planning to rebuild this amp to a ridiculously high powered guitar amp. Possibly to something like those legendary JCM800 models. Seems that I will have to disassemble the entire amp to fix and refinish the chassis. This is a bit of a shame since the amp is really nicely built.
Original condition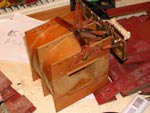 OT taken apart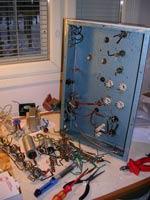 Components removed
Some specs of the original amp
EF86 and ECC83 pre amp tubes
ECC40 phase inverter
Four EL34 power tubes (Push-Pull, cathode bias)
Two unknown rectifier tubes (replaced with diodes)
A big output transformer
Even bigger power transformer
Three inputs, one recording output
Point-to-point costruction
I have a feeling that this project will take a while... See pictures of the amp at the gallery. You can leave comments by clicking the "Kommentoi juttua" link below, or by writing somethig smart to the forum.
Output transformer
the OT of this amp is designed for 100V line that was once used for central radio systems. I took the tranny part to see how it was built. The OT has it's primary split in to four sections with the secondary interleaved between two layers of the primary. Seems that the OT was designed as an "ultra-linear" transformer.
I'm thinking of making a new bobin and winding new coils to make the transformer capable of driving 4 and 8 ohm loads.
First schematics and an amp taken apart
(16.04.2006) The course of this project chaged a little. Sami needed a bass and to complement his new Warwick so we decided to try and build bass amp out of this. Here are the first ideas for the circuit: Pre amp and Power amp and PSU. These will most definately change but at least now there is something to change from. I also took the amp apart and cleaned up the tube sockets. Most of the old components went to thrash...
Kommentoi juttua!
Ei arvostelua!
---
© 2002-2005 kotipolttoinen.com - M Leino, P Lehtonen ja S Lehtinen - Kävijöitä tänään: