HotBox - workalike
Builder: Pekka Lehtonen
Started: 10.10.2004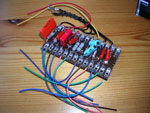 "Tag board"
Tube sockets
Layout I designed and used
The time has come. My first tube-project is on the way. I decided to start with the Matchless HotBox. It is a distortion/booster/preamp box with clean and distortion channels. It uses two 12ax7 tubes. The schematic can be found on the internet.
I decided to start building when I found some "tag boards" or "group boards" from my local electronics shop. The original HotBox is wired directly to the tube sockets but I thought that it would be easier to build and to modify if build on terminal strips.
I'll use back-to-back -style power supply for one obvious reason: it's cheap, it's really cheap. 4 euros so far for two transformers in epoxy cast. Finished psu will propably be wery much like this.
I used some cheap, NOT metalfilm, resistors and some old Philips caps that propably were for television use. I hope that there is not too much noise due to the carbon resistors. We'll see how it goes.
Wiring of the board and tube sockets took about a working day. Now I'm waiting for my order on pot's and tubes to arrive.
Next job is to prepare a decent chassis for the amp. I have a nice steel box that used to be a centronix-printer-sharing-gadget. It needs new front and rear plates, few holes and a lot of finishing.
Pictures of work in progress can be found from the gallery section of this site. More info and pics will be available as the project continues.
29.11.2004
PSU is ready and tested. Next up is the enclosure.
Kommentoi juttua!
Ei arvostelua!
---
© 2002-2005 kotipolttoinen.com - M Leino, P Lehtonen ja S Lehtinen - Kävijöitä tänään: